Coaches Awards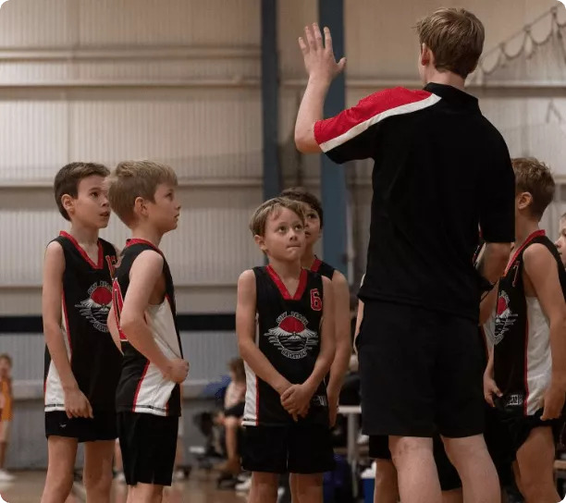 Coaches form a vital part of the basketball experience for our players, often dedicating many hours each week preparing for both training activities and game day.
Often parents double up and volunteer for these roles or our older players gain some early experience and coach a younger team.
We recognise our coaching group in awarding three categories of "Coach Award" each year:
Best First Year Coach
Junior Coach of the Year
Senior Coach of the Year
BEST FIRST YEAR COACH
Presented to the most outstanding coach in their first year with the club. This person may be an experienced coach, or coaching for the first time. The award recognises dedication, organisation and planning, and excellent communication.
1990 JOHN PITSIKAS
1991 PHIL BLAND & CHRIS BOWERS
1992 BILL MEDHURST
1993 ROSS DUCKHAM
1994 KRISTY DUCKHAM & CATHERINE PROPERJOHN
1995 KEN JORDAN
1996 MICHAEL GARLEPP
1997 LEE JELINEK
1998 SUE JACOB
1999 KATRINA ANNAN & LAUREN GLENDINNING
2000 ROSS MOORE
2001 GEORGIE KELLY
2002 KERRY CLARKE
2003 JOHN WHALE
2004 DANIEL HARLOE & TRAVIS HAYTO
2005 BEVAN PASCOE
2006 MELISSA MELBOURNE
2007 CHRIS REYNOLDS
2008 GEORGIA CLARKE
2009 DANIEL CRISP & JACKSON SIMKOVIC
2010 PETER TAZEWELL
2011 ANDREW IMISON
2012 ANTHONY WILLINGE
2013 KYLE SNOKE & BRENDAN O'BRIEN
2014 LISA KINNELL
2015 HEATH DAVIES
2016 PAUL CASSIR
2017 NICK FLOYD
2018 ANNIKA RENKEMA & DAVID STURLEY
2019 TOM SALAMONE
2020 JORDAN WEST
2021 DARCY FLOYD
2022 FLETCHER FLYNN
Senior Coach
Presented to a coach who has shown great dedication to the task. It may be awarded to recognise excellence in team performance, but has often been awarded to coaches whose team has shown great improvement over the year or who achieve above and beyond their expectations. This coach should demonstrate very good communication, planning and organisation of team activities.
1983 GRAHAM LUCK
1984 PETER WODZIANSKI
1985 PETER WODZIANSKI
1986 IAN SIMPSON
1987 JOHN PIERCE
1988 JUDY HARVEY
1989 PETER BENNETT
1990 PETER WODZIANSKI
1991 CHRIS BOWERS
1992 BLAIR DONCON
1993 JOHN PITSIKAS
1994 DANIEL WALKER
1995 JOHN REILLY
1996 MICHAEL AGAPITOS
1997 JOHN PITSIKAS
1998 JOHN WHALE
1999 GLENN DAWSON
2000 PAUL YOUNG
2001 GEOFF METCALF
2002 JULIE SMITH
2003 JOHN WHALE
2004 JOHN WHALE
2005 JO PIERCE
2006 STUART LUCK
2007 SIMON CAMPBELL
2008 PETER WODZIANSKI
2009 SIMON CAMPBELL
2010 VINCE VEIRAITIS
2011 MARK OBERMAN
2012 PETER TAZEWELL
2013 SCOTT VIDLER
2014 JARLETH DORAN
2015 SCOTT MARSDEN
2016 TONY SKILLICORN
2017 CLARK WILMOT
2018 LOUISE SMITH
2019 TODD MELVILLE
2020 JAQUI FRY
2021 STEPHEN TANGNEY
2022 ERINNE WHEATLAND
Juniour Coach
Presented to a coach under 23 years of age, who takes on the task of coaching with dedication. The award recognises a young person who puts their experience back into the club with effort.
1987 SARAH WADDINGHAM/KATE SIMKOVIC
1988 NICOLE SKELTON
1989 MARCUS TREVOUR
1990 NICKY NESDALE
1991 GAVIN CROSTHWAITE
1992 GAVIN CROSTHWAITE
1993 KANE SIMPSON
1994 CRAIG HARMAN
1995 CRAIG HARMAN
1996 SPIRO AGAPITOS
1997 MUSTAFA YILDIZ
1998 MATT ARCHER
1999 KATRINA ANNAN/LAUREN GLENDINNING
2000 RYAN HARVEY
2001 ANDREW STEERS
2002 ALEX DULLARD
2003 DANIEL SCHEPIS
2004 ACACIA MCBAIN
2005 MONIQUE VAUGHAN
2006 TRAVIS HAYTO
2007 JASMINE LUCK
2008 TRAVIS HAYTO
2009 GEORGIA CLARKE
2010 EMMA LOCKWOOD
2011 JORDAN CROCKET
2012 RILEY PEARCE
2013 GEORGIA CLARKE/ZAC DE CINQUE
2014 ISAAC KRAUSS/JAMES MCCORMICK
2015 PHOEBE SNEDKER
2016 ERIC TRAN
2017 MICHAEL HUMPHRYSON/LACHLAN HYNES
2018 RILEY BURNETT
2019 DYLAN STEIN
2020 BAILEY VANDERZANDEN
2021 TOM LYNCH
2022 EDDIE FARQUHARSON & MICHAEL HUMPHRYSON