Manager Info
Manager Info
To allow the team to function well during the season, it is highly preferred that a parent or other responsible person takes on the role of Manager. Among other things, this allows the coach to focus on coaching the team.
Collect the team bag pre-season.
Check sizing of singlets and arrange changes with our Property Manager before the first game.
Organise a scoring roster (which usually does not include the coach's or manager's family).
Training day and time – liaise with coach, players and CBBC to find suitable training venue and time.
Inform the team parents each week with the game time, location and scorer duties.
Organise substitute players if down to 5 players (due to absences). NB Substitutes need to be from a lower division.
Inform CBBC if team needs to forfeit a game.
Check the players have been recorded correctly on PlayHQ with the allocated scorer.
Act as a liaison between the team and the club if any issues.
Organize team wind up.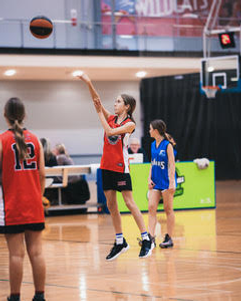 At the start of the season, the team manager is issued with a "kit bag". This will contain playing singlets for all team members – sizes are based on requests made at time of registration.
Singlets are to be worn for game day only, not for training. If teams would like to borrow a set of training singlets, they can request this by contacting the Property Manager [email protected]
Each player is responsible for their singlet. A lost singlet fee of $50 will be charged to players who lose their singlets or do not return them at the end of the year.
At the end of the season, the team manager collects all singlets and hands them back to the club. Manager to ensure all singlets are washed and none missing.
regarding player uniforms
cbbc singlets
black shorts
From 2021, all players are required to wear black CBBC shorts with no pockets.
The CBBC shorts can be purchased from the club by emailing [email protected]
balls
Each team gets issued with 2 balls at the start of the season – for indoor use only.
These are returned to the club at the end of the season.
Each under 8 player gets issued with their own size 5 ball at the start of the season – it is theirs to keep.