City Beach Basketball Club 2020 Review
City Beach Basketball Club 2020 Review
news
City Beach Basketball Club 2020 Review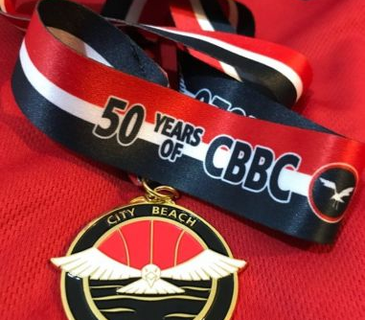 11/29/2020
The 2020 basketball season contained its fair share of anticipation and anxiety, but as it gingerly unfolded our keen players and hopeful parents seemed more enthusiastic than ever to play their part. Many individuals I had the chance to speak to were overwhelmingly positive and happy with how our season eventuated.
The success of our season was dependent on the synchrony of many moving parts. Jenny Purser, Rocky Condo and Hugh McAuliffe at Perry Lakes Hawks were the Tom Cruises in this Mission Impossible. They work tirelessly with all of the junior clubs whilst in lock down to ensure we had a season when the restrictions began to lighten. Without this dynamic trio at the helm, I have no doubt we would not have had a 2020 season.
I was also really impressed with how the other junior clubs worked together to get this season up and going. I detected a real sense of comradery between the clubs with each wanting the other to do well this year.
Perhaps the only negative for the 2020 season was that we didn't get to have an u8s competition. This competition provides a good introduction to players who are keen to lace up their basketball boots in a competitive but nurturing environment. We are looking forward to seeing our youngest members running on the courts in 2021.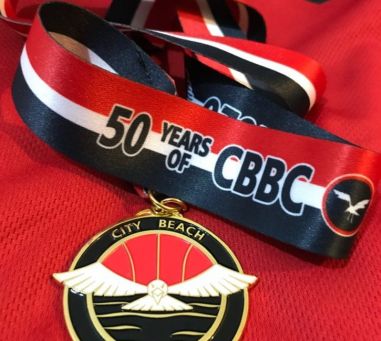 Photo of 50th Anniversary Medallions presented to CBBC players in 2020
The 2020 season marked the 50th Anniversary of the club, and although celebrations were postponed, beautiful CBBC anniversary medallions went home with each player to wrap up the season. Despite the challenges we faced at the start of the season, we managed to achieve a significant number of great achievements in 2020.
Sponsorship
The club is keen to partner up with businesses in an effort to further strengthen CBBC and continue to provide boys and girls with the opportunity to play basketball.
Earlier this year I announced that New Homes Building Brokers (NHBB) was our club's first major sponsor. This partnership has allowed us to improve how we communicate with our very large membership through the development of a new webpage.
The club is also in the process of finalising a sponsorship model that consists of four levels to allow businesses to support the club as a whole, or their favourite City Beach team.
Communications
To better connect with our members, the club also created a Facebook profile in 2020. Although I am clearly biased, I think the page is fantastic. Our social media team typically posts items about the club, Hawks and basketball generally every couple of days so if you want to stay in the know, you should be following us.
This year also marked the design and formation of our new website. This website provides great information on the club and how you can become part of it.
Registrations
Registering our players before the start of each season takes effort and time. The registration process requires four registrars (Junior Boys, Senior Boys, Junior Girls and Senior Girls) and we will be seeking to fill these positions before the commencement of the next season.
Committee Members
Although the current members of the committee thoroughly enjoy being part of the club, there is a need for new members to join the committee to ensure the smooth transition of committee members as their children move through the grades.
Being on the committee is a great way to shape the direction of the club. Another incentive to join the committee is that members will be reimbursed for their club fees for up to two children (this reimbursement is also available to the registrars).
End of Year Awards and Windups
Consistent with everything else that occurred in 2020, our windup and awards night was different this year. Rather than hold one large event, we encouraged teams to hold their own windup by providing coaches and players with vouchers to Grill'd Burgers. All feedback received was positive and this is a format we may continue with in the future.
Our awards night was held separately at the Floreat Hotel. It was a wonderful night with the friends and families of the winners and shortlisted nominees invited to attend. For more information about the winners and the night itself, please go here.
Training Tops
2020 was also the year the City Beach Basketball Club players became more visible with almost all players (and many coaches and managers) taking up the opportunity to receive a long sleeve training top. It was fantastic seeing so many players wearing the grey tops during the season. They were a clear hit with the players.
Well done to our incredible equipment manager Meike for ordering and distributing almost 700 shirts! Thank you also to NHBB for sponsoring the tops.
2021 Season
The committee and I really hope you all enjoyed the 2020 season and we look forward to seeing you all in 2021. Registrations are expected to open up in 2021 around Australia Day, with an email going out beforehand to all players who were registered in 2020.
Paul West
President