Player Awards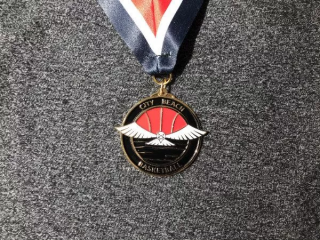 The player awards are presented to the boys and girls for whom the club is all about. Each year we recognise our best male and female players at three stages of their time at CBBC:
Junior Boy and Girl – U10 to U12 age group
Intermediate Boy and Girl – U14 to U16 age group
Senior Boy and Girl – U18 age group
Congratulations to the hundreds of players throughout the club who have provided us with wonderful entertainment and enjoyment during the season.
KERRY SMITH MEMORIAL TROPHIES
Junior Player Awards
Presented to the most promising miniball, U10 or U12 players in the club. The trophy recognises both dedication and excellence in individual skills, but has a strong emphasis on team play. This award is to encourage the players to continue to keep trying and working at their game.
Junior Boy
1996 DALE RUTHERFORD
1998 JAMES CORNISH/ADRIAN DAWSON
2000 JOSHUA GARLEPP
2002 RHODRI SIMMONDS
2004 ANGUS VAUGHAN
2005 BRENDAN LIM
2006 CURTIS LUCK
2007 CURTIS LUCK/RYAN LIM
2008 BRONTE SUTHERLAND
2009 COOPER NITSCHKE
2010 MITCHELL CLARKE
2011 MATTHEW OBERMAN/JOEL KRAUSS
2012 MATTHEW OBERMAN
2013 CHARLIE CALDOW
2014 JOSHUA HARRIS
2015 TIM IMISON
2016 HAMISH DAVIS
2017 HARRY HANSEN-KNARHOI
2018 JORDAN WEST
2019 ISAAC BRAY
2020 MITCHELL PEARCEY
2021 DYLAN REDHAGE
2022 DANIL KAZANOV
Junior girl
1997 JESSICA ANNAN
1999 TENIKA SMITH
2001 PIA JELINEK
2003 THALIA KAILIS
2005 REBECCA GIUDICATTI
2006 GEORGIA CLARKE
2007 GEORGIA NITSCHKE
2008 TANYA SALVARINOV
2009 MIA SATIE
2010 MIA SATIE
2011 ABIGAIL ASHFORD
2012 ABBI ROSS
2013 ZOE SHANAHAN
2014 RUBY VLAHOV
2015 PHOEBE TURNBULL
2016 SUMMER RULE
2017 ROSIE ALCHIN
2018 TEHAYI COOREY
2019 OLIVIA HANSEN-KNARHOI
2020 LUCY CAHILL
2021 JESS CRABB
2022 SANSA TATAM
PETER WODZIANSKI TROPHIES
Intermediate Player Awards
Presentation of this award commenced in 2006 to recognise a player within the U14 to U16 age group who demonstrates exceptional team motivation skills. This player not only strives for their own personal best but also inspires his/her team to greater performance. He or she leads by example with courage, determination and a willingness to opt for the best team outcome over personal glory when the situation arises.
intermediate Boy
2006 MICHAEL EXCELL
2007 CHRIS REYNOLDS
2008 KEY NATHAN
2009 JACKSON SIMVOVIC
2010 JETANI HUNTER
2011 RILEY CHAPPELL
2012 RYAN CRISP
2013 TIM GERSCHWITZ
2014 EDDIE EIMANIS
2015 TULLY O'BRIEN
2016 OSCAR NIVISON
2017 HARRY IMISON
2018 BRODIE HAYWARD
2019 BEN WILLIAMS
2020 JAISAL SOHAL
2021 TOM STURLEY
2022 OSCAR DOYLE
intermediate girl
2006 ELOISE PIERCE/PIA JELINEK
2007 ELOISE PIERCE
2008 OLIVIA LYONS
2009 GEORGIA CLARKE
2010 GEORGIA CLARKE
2011 KRISTAN TEASDALE
2012 MIA SATIE
2013 JESS LOW
2014 KEELY O'BRIEN
2015 SHANNON MITCHELL
2016 ZOE SHANAHAN
2017 LILY WALL
2018 CLAUDIA BATES
2019 VIOLA REINA
2020 CATE BELLAMY
2021 UMA CARR
2022 SARAH STEWART
LUKE GARDINER MEMORIAL TROPHY
Presented to the most outstanding male player in the club. It recognises dedication and excellence, and the potential to succeed at the highest level of basketball. It is based on performances within City Beach fixtures, rather than Hawks (or other) games.
senior boy
1972 RORY MAIN
1973 JOHN HOLDER
1974 PETER STANLEY
1975 DAVID GORDON
1976 LYNDEN DIRLBRIDGE
1977 SCOTT BOONE
1978 J EDWARDS
1979 JEROME KERWOOD
1980 ALLAN WATTS
1981 ANDREW MILLER
1982 DAVID AH CHEE
1983 AARON GARDINER
1984 HEATH GARDINER
1985 JUSTIN CARROLL
1986 AARON HEALY
1987 PHILIP TOMAZIN
1988 JEFFERY HARDMAN
1989 CHRIS TOOHEY
1990 CJ BRUTON & RYAN GARDINER
1991 JACOB HEALY
1992 MARK ROBERTS
1993 MATHEW MALCOLM
1994 RYAN HARTFIELD
1995 DANIEL WALKER
1996 P J MARSHAL
1997 BEN ROBERTS
1998 BLAKE SUTCLIFFE
1999 BLAKE SUTCLIFFE
2000 BLAKE SUTCLIFFE
2001 KEITH HAUCK
2002 TIM ANDERSON
2003 JOHN WHALE & ADAM CARGILL
2004 JOHN WHALE
2005 JAMES CORNISH
2006 KEITH HAUCK
2007 MIKE EXCELL
2008 –
2009 JOSH MACCARTHY
2010 TIM O'HARA
2011 JACKSON SIMKOVIC
2012 DALE ETTRIDGE
2013 JACKSON SIMKOVIC
2014 DALE ETTRIDGE
2015 JOSHUA KELLY
2016 TIM GERSCHWITZ
2017 OSKAR NIVISON & ZAC CHEIR
2018 HARRY LENNON
2019 WILL BECKWITH
2020 WILL GERSCHWITZ
2021 HAMISH BOYLE
2022 JORDAN WEST
senior girl
Presented to the most promising & dedicated female player in the club. It is awarded to the girl who is most likely to succeed at the highest level of basketball. It is based on performances within City Beach fixtures, rather than Hawks (or other) games.
1984 JULIET WEGE
1985 LORI NEWMAN
1986 TANIA TAYLOR
1987 KATE SIMKOVIC
1988 JULIANNE CARROLL
1989 SODAL PAKI
1990 LIZZIE NUM
1991 FIONA IRVINE
1992 FIONA IRVINE
1993 KELLI PAKER
1994 REI-LYN PAKI
1995 REI-LYN PAKI
1996 ALISA RIDGE
1997 FELICITY HESTER
1998 FELICITY HESTER
1999 ELEANOR HARING
2000 CHERIE GRATZIOTTI
2001 CHERIE GRATZIOTTI
2002 CARLEE ACKLAND
2003 JESSICA ANNAN
2004 FELINE KAUTSKY/SOPHIE KALIS
2005 TALEA RENNIE
2006 NICOLE BUTTNER
2007 CATHERINE BELL
2008 CATHERINE BELL
2009 OLIVIA LYONS
2010 KATE FITZGERALD
2011 NINA SCHEER
2012 KRISTAN TEASDALE
2013 ASHLEE HARDISTY
2014 MIA SATIE/NATASHA PROUD
2015 KELLY CLAESSEN
2016 SAMANTHA ASHBY
2017 NATASHA OBERMAN
2018 ZOE SHANAHAN/JENNA TEASDALE
2019 JENNA TEASDALE
2020 JADA SIKWETI
2021 AMBER MARSDEN
2022 BRONTE DURRANT