Registration
All our 2023 teams are full and finalised.
New players or CBBC players who did not play last season need to join our season specific waiting list.
Vacancies in teams are filled with suitable players from the waitlist once the priority registration period for returning players has closed.
Waitlists will open at the end of January 2024 using the following links:
cost
The cost of fees to become a playing member of CBBC is currently $361.75.
THIS AMOUNT CONSISTS OF:
BWA Registration Fee - $41.75 annual fee providing insurance cover across all BWA affiliated associations and competitions
Perry Lakes Hawks Season Fee - $170 upfront season fee in lieu of a weekly playing fee
CBBC Membership Fee - $150 fee that covers training and other costs incurred by the club
uniform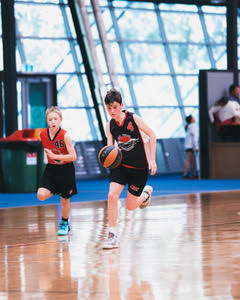 CBBC colours are red, black and white. The club logo is a seagull flying in front of a ball depicted as the sun setting over the ocean.
The club supplies each player with a reversible playing top which must be returned at the end of each season. Black playing shorts embroidered with CBBC are purchased through the club.
Penalties apply at games for teams with players not wearing the correct uniform.
Any socks and non-marking sports shoes are permitted. Compression garments can be worn under the playing uniform though rules apply. Watches or jewellery are not permitted.
Although not compulsory, players are encouraged to wear mouthguards.
junior rules
PLHBA Junior Competition
Special Rules U10 and U11
We are a large junior basketball club run by a committee of volunteer parents. Without the assistance of players and their families helping with tasks like game day scoring, coaching, managing and general volunteering, we would not be able to function.
If you love the idea of being part of a committee, helping with decision making and providing fresh ideas, we will be waiting with open arms for you at the next AGM. Or, why wait until then? Get on board now by volunteering on a sub-committee.
We thank you in advance and look forward to your continued support in promoting basketball and watching our children have fun and thrive in this inclusive sport.